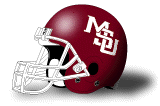 Football coaching is hard work.

It drains heavily on the physical, particularly

on the nerves. I believe that one should cease

this arduous service while still in good health.

Dan McGugin
2002 Overall Record: 3-9
Conference Record: 0-8
Returning Starters: Offense 7, Defense 8, Kicker/Punter 2
Next game: August 30 vs Oregon @ Starksville
Want a little info on Oregon?
SEC West Out of Conference Opponents
2003 Forecast:
Ok, I am going to try to be nice.
Mississippi State returns 7 starters on offense and 8 on defense from a team that went 3-9 in 2002. QB Kevin Fant (1918 psg yds) returns, but is being pushed by sophomore Kyle York for playing time. Sophomore RB Nick Turner appears to be the front-runner for playing time there. The Bulldogs struggled to run the ball last year, and that is a major area of concern. There is depth at the O-line position.
On defense, the Bulldogs will switch to a 4-3 alignment. Jason Clark, an All-SEC defensive end last year, has been moved to OLB.
Of course, King Jackie (or is it Jackie the Clown?) has new coordinators on both sides of the ball. As a matter of fact, 5 assistant coaches were sent packing after last year's debacle. It will be interesting to see how fast the new schemes are picked up.
The Bulldogs will not challenge for the SEC crown, but will be competetive. They have experience on both sides of the ball.
This club will be tested early by OOC foes Oregon, Tulane, and Houston. These 3 games will serve to tune up the Bulldogs for their yearly loss to LSU (I know MSU has beaten LSU, I just don't remember when). Trips to Auburn, Tennessee, and Arkansas promise to make this another tough year for Dawg fans.
The white helmets (yeah, the ugly ones) may be brought out early this year.
Predictions: 5-7 overall. 2-6 SEC.