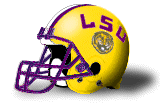 I'd rather face the lions in the coliseum

than the Tigers in Baton Rogue.

Bobby Dodd
2002 Overall Record: 8-5
Conference Record: 5-3
Returning Starters: Offense 8, Defense 7, Kicker/Punter 1
Next Game: August 30 vs UL-Monroe @ Baton Rouge
Want a little info on UL Monroe?
SEC West Out of Conference Opponents
2003 Forecast:
The Bayou Bengals return 8 offensive and 7 defensive starters from last year's squad that finished 8-5 (2-4 in the last 6 games). They were one drive away from a return trip to Atlanta and the SEC championship game. The Tigers are picked by many to challenge Auburn for top billing in the SEC West, and with good reason.
The OOC schedule is cream-puff (Louisiana Monroe, Arizona, Western Illinois, and La Tech). The Tigers get Georgia, Florida, Auburn, and Arkansas at home.
Coach Nick Saban is building his type of club in Baton Rouge. After 3 great recruiting seasons (#1 this last year by most accounts), the Tigers have depth at the line positions. The Tigers have big asses on the line, and world class speed to burn at the skill positions.
Last year, LSU was marching towards the SEC West crown after a drubbing of Florida in Gainesville. In the closing minutes of that game, the life was sucked out of them. A foot injury to QB Matt Mauck sidelined him for the remainder of the season. The expulsion from the team of safety Damien James, a couple of weeks later, sealed their fate. The Tigers floundered late and lost to Arkansas on a last second desperation heave (Arkansas? Throw?) that gave Arkansas the right to represent the SEC West in the SEC title game.
QB matt Mauck returns. His playing injury free is the key to the Tigers' fate this year. The other postion of concern this year for LSU is the defensive backfield. 3 starters were lost last year. Safety Jack Hunt has experience, but is undersized.
Joseph Addai will get the bulk of the carries. WR Michael Clayton may be another Josh Reed, but the Tigers must get him the ball this year. MLB Lionel Turner will head the defense for the Tigers. CB Corey Webster had 7 interceprions last year.
Experience, speed, size, and depth.
The Tigers, if injury is avoided at the QB slot, will challenge for the crown.
Prediction: 9-3 Overall. 5-3 SEC. The Tigers will play in a major bowl (possibly BCS) again. Top 15 ranking.