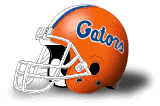 I want players to think as positively as the

85-year-old man who married a 25-year-old woman

and bought a five-bedroom house next to

the elementary school.

Charlie Pell
2002 Overall Record: 8-5
Conference Record: 6-2
Returning Starters: Offense 6, Defense 3, Kicker/Punter 2
Next Game: August 30 vs San Jose St. @ Gainesville
Want a little info on San Jose State?
SEC East Out Of Conference Opponents:
2003 Forecast:
Talent, but no experience. That about sums up what Ron Zook fields this year.
The Gators return 6 starters from the offensive side of the ball and 3 from the defensive side. The offensive line appears to be the strength of this team, and RB Ron Carthon has looked good during spring drills. All-SEC performer OG Shannon Snell will open the holes.
The Gators will need someone to step up at the WR slot, after the loss of Taylor Jacobs. Ingle Martin is the only QB with experience on the roster. The defensive line lost all 5 starters. There are plenty of question marks. There is one corner without a question mark, however: Senior CB Keiwan Ratliff mans one corner. He may the best athlete in this squad. Expect opponents to throw to the opposite side all year long.
Coach Ron Zook had a respectable 1st year, but needs improvement to keep the natives happy. Florida fans are not used to 8-5 seasons.
Florida has a week 2 (September 6) date with Miami, and closes with Florida State (these two beat the Gators last year by a combined 72-30). In between are road games to Baton Rouge and Fayettville, and a home game vs Tennessee. There is also the yearly "cocktail party" vs Georgia. A tough schedule to improve one's record against.
Still, until they prove me wrong, I am picking the Gators to be in the race for the East crown until late in the year. But, if the injury bug hits, this could be the longest year of Coach Zook's life.
Prediction: 7-5 overall. 5-3 SEC. Mid level Bowl.