2002 Record: 10-3
SEC Record: 6-2
Returning Starters: Offense 6, Defense 7, Kicker/Punter 1
Next Game: August 30 South Florida @ Birmingham
Want a little info on South Florida?
SEC West Out of Conference Opponents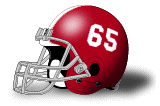 I can reach a kid who doesn't have

any ability as long as he doesn't know it.

Bear Bryant
2003 Forecast:
Who knows what to expect from the 2003 version of the Crimson Tide? This team is coming off of a 10-3 year and return 6 offensive and 7 defensive starters. Leading rusher Shaud Williams (921 yards) returns,along with leading tackler Brooks Daniels, and sacks leader Antwan Odom. Under the direction of new head coach Mike Shula, one would expect optimism in Gumpland.
But, out of conference games against Oklahoma and Southern Miss add to a grueling SEC conference schedule that includes Georgia, Kentucky, Arkansas, LSU, and Auburn.
The offensive line is not only good-it is near great. If the passing game struggles, there will be holes opened for the running game. OG Justin Smiley will be one of the best in the nation.
The Tide lost 3 top defensive linemen. Finding bodies while under scholarship reduction may be easier said than done. Depth (or lack thereof) may play an important factor in the success of this club.
And then there is leadership. After the Coach Fran fiasco, the Tide turned to Mike Price. A date with Destiny quickly soured the Bama elite. Though he leaves T-Town undefeated, his name will never be synonymous with Coach Bear Bryant. Alabama AD Mal Moore (who hires coaches faster than french women change underwear) then turned to Coach Shula (after being turned down again by Frank Beamer, Steve Spurrier, Jimmy Johnson, Houston Nutt, and God himself if you read Tider Insider). A respectable choice, considering the state of Alabama football today, but not one without controversy. Jessie Jackson has now set up camp in T-Town.
It will be interesting to see how the seniors will respond to their 4th different head coach. Before Destiny intervened, Mike Price had brought a wide open attack to Gumpland. One would suspect that Mike Shula's offense will be more geared more to ball control and running the football.
Sophomore quarterback Brodie Croyle will lead the Tide attack.
Not eligible for the conference title or bowl game, the Tide will close the year with their 2nd consecutive Bama bowl against Hawaii (take that, NCAA).
Predicted finish: 9-4 Overall. 5-3 SEC.