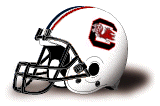 First we will be best, then we will be first.

Lou Holtz
2002 Overall Record: 5-7
Conference Record: 3-5
Returning Starters: Offense 2, Defense 6, Kicker/Punter 1
Next Game: August 30 vs UL-Lafayette @ South Carolina
Need a little info on UL Lafayette?
SEC East Out Of Conference Opponents:
2003 Forecast:
I hear many people talking up South Carolina this year, but I just don't see it. The Cocks are coming off of a 5-7 year and return only 2 starters on the offensive side of the ball, and 6 defensive starters. Leading receiver, and speed merchant, Troy Williamson (491 rec yds) is back, but all other skill position starters are gone. The RB position is wide open. OT Travelle Wharton may be the best at his postion in the SEC.
The Cocks have a new defensive coordinator, and a new alignment (4-3) to learn. The bulk of their linebacking crew was out from spring drills with injuries, but if they make it back, they are good. In addition, a star corner may be moving to the offensive side of the ball.
This team has much talent, but very little experience. They are very young.
Out of conference foes Virginia and Clemson add to a grueling SEC schedule that has the Cocks traveling to Georgia, Tennesse, and Arkansas. Home dates with LSU and Florida add to the slate.
If this team matures early, it could be solid. If it doeasn't, it could be a long and disappointing year. I see them as middle of the pack in the SEC East.
Predictions: 6-6 overall. 3-5 SEC. May get a minor bowl bid.