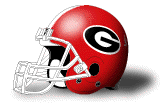 I'm from Ohio, but if I'd known when I was two what it was

like down South, I would have

crawled here on my hands and knees.

Frank Sinkwich, University of Georgia
2002 Overall Record: 13-1
Conference Record: 7-1
Returning Starters: Offense 3, Defense 7, Kicker/Punter 1
Next Game: August 30 vs Clemson @ Athens
Want a little info on Clemson?
SEC East Out Of Conference Opponents:
2003 Forecast:
The Georgia Bulldogs were 13-1 overall last year, and are defending SEC champions (their first in 20 years). Mark Richt looks to be a great young coach whose only weakness is clock management.
But, the Bulldogs return only 3 starters on offense and 7 on the defensive side of the ball. The OOC schedule includes dates with Clemson, Middle Tennessee St, and Georgia Tech. The conference schedule has them playing at LSU, Auburn, South Carolina, Alabama, and their yearly matchup vs Florida at Jacksonville. It will be tough to repeat.
Quarterback David Greene (2924 psg yds) returns to lead the Dawgs. Also returning, is sack leader David Pollack (14). RB Odell Thurman looks to be the starting talback after a highly productive spring.
The offensive line lost all 5 starters. Worse, 9 Bulldogs, including some starters, were suspended in May after selling their SEC championship rings.
This team looks like a team searching for an identity.
The SEC better beat up on this club this year. This team is overflowing with young talent, and will be a mainstay in the SEC East for years to come.
I do suspect that Coach Richt will have his entire squad eligible for the opening of SEC play. In the always tough SEC, that is a must.
Inexperience could cost the Dawgs early, but this club has plenty of talent, especially on the defensive side of the ball.
Prediction: 9-3 overall. 5-3 SEC. Major bowl bid (possibly BCS). Top 20 ranking.