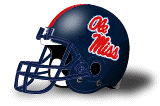 The worst thing a coach can do is stand pat and

think the things that worked yesterday

will win tomorrow. Intelligent changes must be made.

Johnny Vaught
2002 Overall Record: 7-6
Conference Record: 3-5
Returning Starters: Offense 7, Defense 8, Kicker/Punter 2
Next game: August 30 vs Ole Miss @ Memphis
2003 Forecast:
Hope springs eternal down in the Grove. The Rebs return 7 on offense and 8 on defense from a team that went 7-6 last year (including 5 straight conference losses). Once again, with the easiest out of conference schedule in the SEC, the Rebels are practically guaranteed wins yearly over teams like Memphis, UL-Monroe, Texas Tech, and Arkansas State. Add in the fact that Vandy is Ole Miss' permanent SEC East foe, and a 5 win season every year is assured. The problems occur during the SEC part of the schedule, when teams like Florida, Arkansas, Auburn, and LSU come-a-calling.
Of course, with QB Eli Manning (3041 psg yds), RB Ronald McClendon (387 rushing yds), and WR Chris Collins (812 rec yds) returning, the boys from the Grove will be explosive on offense.
Is that correct? The RB who led the team in rushing last year gained only 387 rushing yards? Yep! Obviously, the Rebs must run the ball to take some of the heat off of Eli.
The defense must step it up this year. This is the 2nd year with the 4-2-5 alignment, and improvement must be shown against quality opposition. FS Eric Olivier led the team in tackles last year with 129. That is FREE SAFETY Eric Olivier. Something is wrong when the FS leads your team in takedowns.
The kicking game? Perhaps the best in the SEC.
Eli Manning could be the #1 choice in next year's professional football draft. He will also garner much attention in the Heissman race. It would be nice to see him win at the college level. And, 2003 may be the year.
This could be the SEC sleeper team of 2003.
Oh, and 1 more thing: Coach Cutcliffe appears to be on a very short leash. His friendship with Archie appears to be the main reason he will be walking the sidelines this year. Eli leaves after this year, coach. You had better put some SEC wins on that board.
Prediction: 7-5 Overall. 4-4 SEC. Mid level bowl.