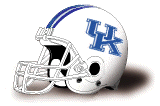 When in doubt, Punt!

John Heisman
2002 Overall Record: 7-5
Conference Record: 3-5
Returning Starters: Offense 7, Defense 4, Kicker/Punter 1
Next Game: August 31 vs Louisville @ Lexington
Need a little info on Louisville?
SEC East Out Of Conference Opponents:
2003 Forecast:
The Kentucky Wildcats posted a 7-5 overall record last year, and look to improve on that this year. The Wildcats open the year against a solid Louisville club at home, and face Florida, Alabama, and Arkansas on the road this year.
The Cats return 7 starters on offense this year, including Quarterback Jarod Lorenzen (2267 psg yds), and 4 on the defensive side of the ball. Offensive tackle Antonio Hall is All-SEC caliber. Vincent Burns is a great pash rusher, and accounted for 14.5 sacks last year.
The defense will have to be rebuilt from the bottom floor, and could struggle early. The Cats will line up in a new 3-4 alignment this year. Because of this switch, a couple of young defensive ends have had to make the switch to the OLB slots. As a matter of fact, all 4 linebacker slots will be filled with newcomers.
The Wildcats will be under the direction of a new head coach this year. Rich Brooks takes over the spot. He brings a great staff with him to Lexington. Recruiting suffered only minimally last year because of NCAA sanctions, and the near future is promising. The Cats could be very competetive this year with Lorenzan behind center.
Prediction: 7-5 Overall. 3-5 SEC. Mid level Bowl bid.