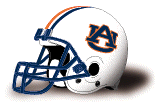 Always Remember that Goliath was

a 40-point favorite over little David.

Shug Jordan
2002 Record: 9-4
2002 SEC Record: 5-3
Returning Starters: Offense 8, Defense 8, Kicker/Punter 0
Next Game: August 30 Southern California @ Auburn
Need a little info on Southern Cal?
SEC West Out of Conference Opponents
2003 Forecast:
The Auburn Tigers are picked by many to win the SEC this year, and rightfully so. The Tigers/Plainsmen/War Eagles return 8 offensive and 8 defensive starters from a team that went 9-4 last year.
3 sensational tailbacks return (Cornell Williams, Ronnie Brown, and Tre Smith), along with quarterback Jason Campbell (1215 yds passing). On the defensive side, LB Dontarrious Thomas has been moved to the inside to lead the attack.
Damon Duvall (who was brilliant in his career until an LSU trombone player put him in his place) must be replaced at the k slot. The kicking game just might be the achilles heel of this squad.
Southern Cal and Georgia Tech headline the out of conference schedule. In conference, the Tigers host Tennessee and Auburn. The Tigers will have to win at LSU, Georgia, and Arkansas.
The 2003 edition of Auburn football is loaded (with only one corner slot as suspect).
Coach Teletubby has won with less talent, but has never been tested with this kind of ammunition. Last year, Auburn blew out LSU and Bama. But, they lost to got blown out by Arkansas. There can be no let downs this year.
2003 may be the year of the Tiger on a the national scene. After so many years of being the #2 team in Alabama, this squad just may actually make a run at a national title.
If the Tigers remain injury free and refrain from cigar smoking or stomping on logos of the opposing team, this could be a banner year on the plains. They could, also, regain that class image that has been tarnished in recent years under the Teletubby.
Predicted finish: 10-2 Overall. 7-1 SEC. Western Conference Champions. SEC Champions. Will play in a BCS bowl. Top 10 finish.